OUR SERVICES
Dr. Gupta's Smile Clinic
Cosmetic Dental Treatment
• Ceramic/Metal Free Crowns
• Midline Space Closure
• Veneers
• Tooth Whitening -Tooth Jewelry
• Restoration (filing)


Root Canal Treatment Painless
Periodontal Treatment
• Scaling & Polishing
• Flap Surgery
• Periodontal Surgery
• Bone Grafting
• Depigmentation of gums

Orthodontic Treatment
• Metal Braces
• Ceramic Braces
• Lingual Braces

Invisible Braces
• Invisalign
• Clear Path
• TAC Aligners
• Clear Aligners
• Clear Correct

Extraction /Oral Surgery
• Simple Extraction
• Surgical Extraction (Impacted Tooth)
• Maxillofacial Fractures

Dental Implants
• Detium
• Osstem
• Noble Biocare

Crowns & Bridges
• Metal Ceramic
• Zirconia
• Ceramic
• Inlays & Onlays Dentures
• Flexibles
• Unbreakable

Preventive & Kid Dental Treatment
• Pit & Tissue Sealants
• Fluoride Applications
• Kid Tooth Filings
• Kids RCT's

5

Star
Google & Just Dial Reviews
+

50

k
Painless Root Canal Treatment
ABOUT US
Our

clinic

is made for you to be smiling all the time
We, Dr. Gupta's Smile Clinic, has a team of specialists headed by Dr. Mohit Gupta & Dr. Anjali Singla. We offers various dental and cosmetic procedures in a very pain free manner.
We are a talented team of leading dentistry experts that provide our patients the best dental care in Chandigarh with composition & respect. We are committed to creating an atmosphere of caring for our patients & team members alike.
Dr. Mohit Gupta
Dr. Gupta has refined his skills in fields of Dental Implants, Smile design, aesthetics & Root Canal Treatment. He attended a Dental Implant course from Harward University. Also he attended numerous courses across India in oral to attend lectures, seminars & hands on workshops led by some of worlds most specific dentists. He has published various articles for National & International journals.
Dr Vishal Mittal
Oral and Maxillofacial Surgeon
Dr. Vishal Mittal completed his Bachelor's Degree from Panjab University in 2012 and has Mastered in the field of Oral and Maxillofacial Surgery. He has been University topper in his field.
Dr Aman Bhatia
Periodontist
Completed graduation (BDS) in the year 2006 and post graduation (MDS) in year 2009 from RGUHS Bangalore. Dr Bhatia is pursuing his PhD from JAPHER university , Udaipur.
Dr Devinder Pal Singh
Orthodontist
Dr. Devinder Pal Singh is highly recognized Orthodontist and awarded by many national & international awards. He has more than 15years of experience in his field.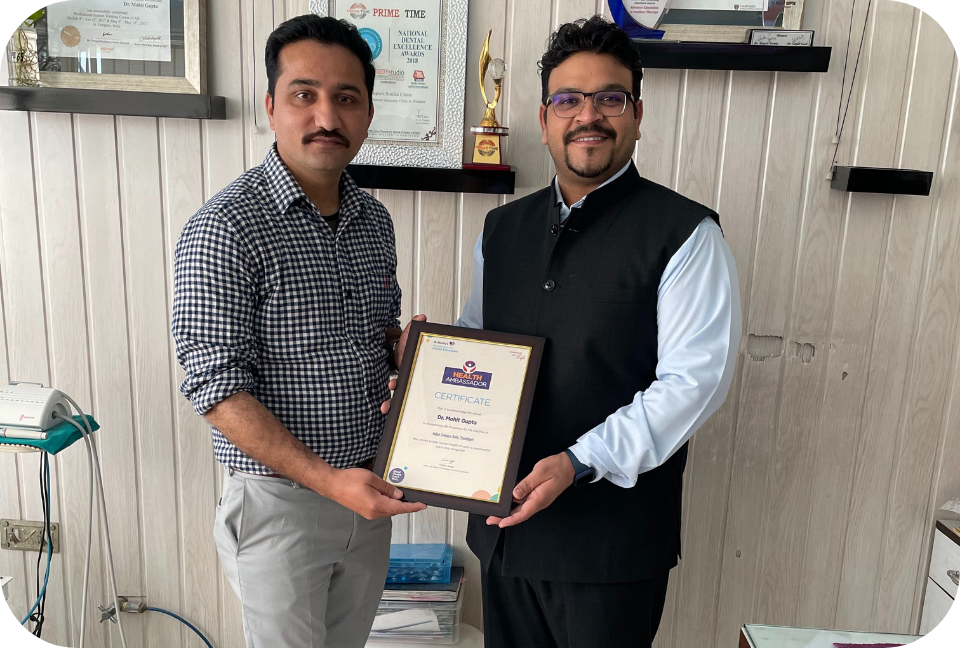 TESTIMONIALS
Read what our patients think about us
The best in VIP road. We went for tooth implement and the way Dr has explained about all the things clearly and treatment went really smoothly. The way he comforts his patients is very kind and procedure was pain less and we are happy with the overall treatment. Will really suggest.

Had great experience and known to Dr. Mohit for last more than 03yrs. Implants for Mom has done in past and now also in touch for my dad teeth implants. It's personal experience and involvement with him. Always receive great advice and support from him. Always recommended to visit had advice before taking any decision for your teeth issues

Got my Root Canal Treatment done here, completely painless, a walk in the park. Thanks to Dr. Mohit, he made me comfortable and explained the whole procedure. I'm yet to get my crown and fillings done, would definitely recommend Dr. Gupta's Smile Clinic.

Very good experience. Dr Mohit was very helpful and friendly. He diagnosed the problem, offered the possible treatments and calmly explained all the steps. Clinic is also good, clean and with all necessary equipment.

I had severe pain in my wisdom tooth and went to Dr. Gupta. He found that there were many other issues like cavities in some teeth, so got many things done one after the other. I'm very scared of injections so Dr. Gupta got a special injection which didn't have a needle. I was the first person on whim he tried it. Thankfully I had no pain. After my RCT was done in my upper and lower two teeth, I had to travel to Gurugram and i realised I had severe pain in my both RCT, , he was continuously in contact with me prescribed medicine for the pain. When i went back to Zirakpur he did the RCT again and put the caps. Now I'm completely fine.He is really a wonderful person more than a very efficient Dentist. Thanks Dr. I will strongly recommend everyone to visit him before going anywhere else.

I was very scared of dental treatment, especially RCT, because of my painful and traumatic last experience. However Dr Mohit made my RCT almost painless and very comfortable. Also the cleanliness of the clinic and attention to detail impressed me a lot. He provides a genuine advise and explain the treatment very nicely. He answers all the questions asked by us very patiently. I thank Dr Gupta for the superb treatment...

Dr gupta is a genius at what he does! Very professional.. I was always scared of going to a dentist but i finally decided and got my braces. He explained everything in an easy manner and started treatment as early as possible. My treatment finished in exactly 2 years as estimated by him and I'm very happy with how my teeth are perfectly aligned and i'm more confident than ever… Highly recommend him!

Dr. Gupta had made my visits to his clinic relaxed and comfortable to maximum extents. First, i used to fear of having any kind of dental procedures.. Now that fear has been taken care in a very professor way by Dr. Gupta. He has great sense of instilling a feeling of personal touch every time he operates.. Thank you Sir...

Definitely the best place for all dental problems with immediate results. I was in pain and afraid of talking any dental treatment, but now I am so happy after getting my RCTs done from him without any pain. The best part is, you get genuine advice for your teeth and definitely not running behind minting money like other doctors do. Highly recommend Dr. Gupta' Smile Clinic to all, specially those who are afraid of dental treatment and spoil there tooth due to this fear..
PLAN A VISIT
Our top specialists are waiting to help you. Contact with us!